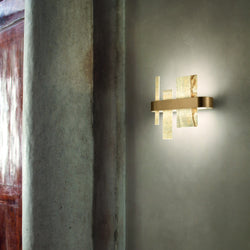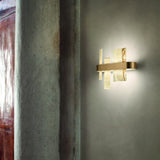 Masiero
Honicé Onyx Wall Lights [2 Sizes] - Masiero
Honicé Onyx Wall Lights [2 Sizes] - Masiero
Estimated Deliver Time 20 Business Days
Masiero Dimore - Honicé Collection
This modern LED wall light has a metal frame in opaque gold or brass finishing with a natural onyx diffuser.
Product Specifications:
Height - 33cm
Width - 10cm
Length - 
[A37] - 37cm
[A65] - 65cm
Lamp(included) - 2 x dimmable LED strips
Masiero chandeliers are handmade to order in Italy therefore, in most cases, there is a 4-6 week lead time.
Custom finishes not listed below are also available at an extra 8% on top of the original price, please contact us if you would like to discuss these options.
These wall lights are part of a collection that also includes the Honicé Onyx Ring Chandelier and the Honicé Onyx Straight Chandelier.