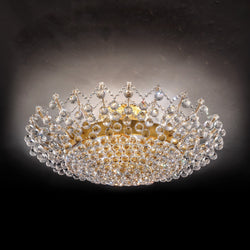 Masiero
Maria Theresa 12 Light Ceiling Light - Masiero VE 919/PL12
Maria Theresa 12 Light Ceiling Light - Masiero VE 919/PL12
Estimated Deliver Time 20 Business Days
This elegant chandelier is richly decorated with the highest quality cut crystal. You can choose to have a chrome or gold plated metal body covered with transparent glass.
Product Specifications:
Diameter - 105cm
Height - 35cm
Weight - 44kg
Required Lamp - 12 x E14 (Max 40W)
Masiero chandeliers are handmade to order in Italy therefore, in most cases, there is a 4-6 week lead time.
You can choose to upgrade this product to Swarovski crystal. You can also choose to upgrade this chandelier to warm white LED or RGB (colour changing) LED which can be controlled using the Masiero Smart Light App or by a DMX system, if you would like this option added to your purchase then please contact us.